CHARLES TAYLOR LANDS IN CALIFORNIA, ANNOUNCES RUN FOR GOVERNOR
by Ben Radstein, Staff reporter
August 13, 2003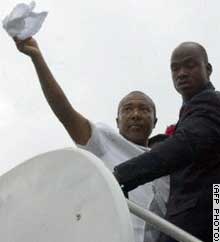 Former President of Liberia and wanted war criminal, Charles Taylor left his exile in Nigeria, and landed in Los Angeles today. He immediately held a press conference, and announced that he his throwing his hat into California's ring.
"This campaign is full of actors, people with famous sounding names, and many others not fit to lead", said Taylor. "California needs an experienced leader. California needs a man who is not afraid to take extreme measures to solve problems; a man will not back down from crushing the enemies of the state. I am that man. Vote for me, and I will make the enemies of California curse their mothers for giving them life."
You may be wondering how Taylor can run for this office when he isn't a resident of the state. It is all part of the deal President Bush made with him to step down, and leave Monrovia. An address in El Cajon was set up for him months ago when negotiations with the White House began.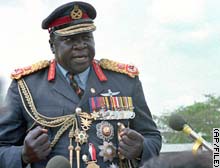 Charles Taylor's campaign has already suffered a major setback. He had planned to make Idi Amin, the former military dictator of Uganda his running mate. This became impossible when Amin died on August 16. A dead man can run for The Senate in Missouri, and handily beat John Ashcroft, but a corpse cannot be Lieutenant Governor of California. He plans to begin a whirlwind tour of The Golden State to drum up support immediately, and will announce his new running mate within a few days.
UPDATE: Taylor received 672 votes. That amounted to less than 1% of the votes cast.