KIM JONG UN ATTACKS SANTA CLAUS
By Ben Radstein, Staff Reporter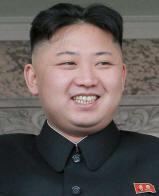 North Korea has been up to no good this year. Under orders from their evil dictator Kim Jong Un, and using information hackers stole from NORAD's Santa tracking, they tried to shoot down Saint Nicholas. The madman was not successful. Santa Claus, all nine reindeer including Rudolph and the elves on the sleigh with him are safe. His flight to bring presents to all the good little boys and girls is on schedule.
Kim Jong Un has banned the jolly old elf from North Korea, and wanted to stop Santa from bringing joy to the rest of the world's children as well. Thanks to the fact that he knows who's naughty and nice, Santa was not surprised by the portly despot's evil scheme. I spoke to Scamp, an elf at the North Pole who had this to say. "We knew what he was up to, and Santa has friends at NORAD, so the information their hackers thought was in real time was delayed by five seconds. Just in case the bad guys got lucky, Santa also has missile countermeasures on his sleigh that can be employed at a moment's notice. The USSR used to try this stuff during the cold war, but this year the Russian Air Force actually helped defend St. Nicholas from the North Koreans, scrambling some MIGs. They really helped us out."
A NORAD spokesman who asked me not to use his name for national security reasons told me. "Fearless Leader over there in North Korea is a roly poly Pol Pot, a really bad guy. He thought he could get the better of us and ruin Christmas for children all around the world, but he is not as clever as he thinks he is. We were one step ahead of him the whole time, and Santa was never in any real danger. Children need not worry."
I imagine that Kim Jong Un is over there now shaking his fist, saying "Curses! Foiled again." We may yet be able to find a way to send him a lump of coal.