UNCOVEROR EXCLUSIVE: NEW HOST OF "THE PRICE IS RIGHT" GILBERT GOTTFRIED
By Colleen Smith, Staff Reporter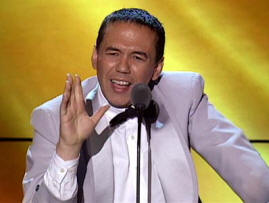 Who could possibly replace Bob Barker, now that he has retired? Some media outlets have suggested Todd Newton of the E! network, Mark Steines of "Entertainment Tonight," George Hamilton, John O'Hurley, and even Pat Sajak. They are wrong. I have the real scoop. CBS Television decided to choose a new host who is nothing like Bob Barker, whom they think can reach a new, younger demographic. Producers have decided that they need someone who is loud, obnoxious and in-your-face. Since Bobcat Goldthwaite turned them down, the new host will be none other than Gilbert Gottfried. You read it here first.
"I can't believe they are doing this!" said longtime viewer Dorothy Dean. "His voice is like nails on a chalkboard. I can't stand him. I hear that the kids like him, but how far will that carry the show?"
Will this work out as planned, or have they jumped the shark? Only time will tell. I personally give it a month. It could be worse. According to my source at the network, other candidates who were asked to do the show but said no included Rosie O'Donnell and Steven Wright.