U.S. MINT PROPOSES NEW CURRENCY DENOMINATION
The U.S. Mint is proposing one additional denomination of money, the sixty nine dollar bill. It will feature the face of our forty-second President, William Jefferson Clinton.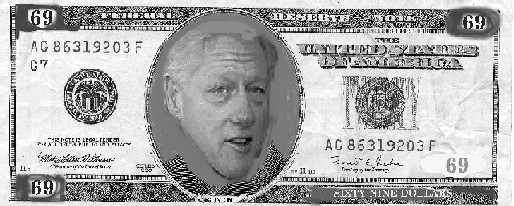 CRUDE ARTIST'S RENDERING
Many oppose this idea saying it is in poor taste to have such a suggestive number as 69 on our money. Others say that Bill Clinton does not deserve the honor of being immortalized on a federal reserve note. After all, his administration was plagued by scandal. He was impeached. Others still have suggested that the new bill should bear the face of John F. Kennedy.
Before a new currency denomination can be released, The US treasury department seeks public comment about the proposal. You can send comments to www.ustreas.gov or by snail mail,
U.S. Treasury
1500 Pennsylvania Avenue, NW
Washington, D.C. 20220