EL CHUPACABRA PUP LOOSE IN MASS
By Randolph Carter Smith
While vacationing in California, Paul and Judith Whateley of Arkham Massachusetts adopted what was apparently a Chihuahua pup from a farmer. Shortly after returning from vacation, local pets and farm animals began to die mysteriously, the bodies drained of blood. County officials and the state Wildlife Agency were unable to explain the cause of these mysterious deaths. Dr. Josiah Wilmot, Head of the Department of Cryptozoology at Miskatonic University, was consulted. At first Dr. Wilmot was as mystified as the state and local officials. Although the attacks bore similarity to El Chupacabra attacks in Mexico and South America, no such creature has ever been reported in Massachusetts. After about three weeks the following photo was taken a by Elias Crowe, a neighbor of the Whateleys when his sheepdog Prince was killed in his front room.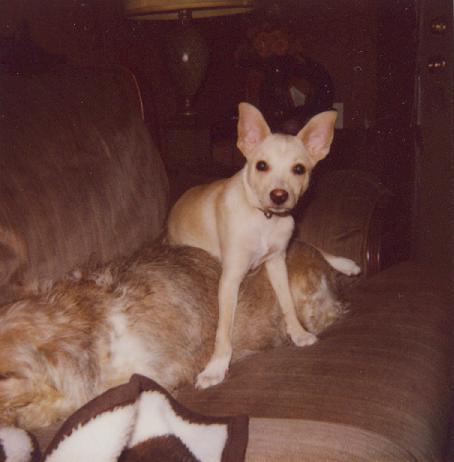 "The beast drank poor Princeís blood and then stared at me with those eyes, as black as midnight they was!" Mr. Crowe explained to this reporter. "Those hollow eyes was like staring into death itself! The beast stared at me, then disappeared into the night. "The photograph was turned over to investigators and this reporter. Using this photo, investigators canvassed the neighborhood seeking any who may have seen the assailant. Imagine the horror of the Whateleys when they identified the creature in the picture as the puppy they had adopted. Somehow the creature eluded animal control specialists and is believed to be hiding in the Dunwich County area.
Dr. Wilmot, when consulted about these events stated the following, "Ancient tales are full of stories about demons and other supernatural creatures interbreeding with humans. Obviously El Chupacabra can interbreed with manís best friend."