CAPE COMEDY IS A CRIME THRILLER WITH MANY TWISTS AND TURNS
By Matthew Brown, Publisher of The Uncoveror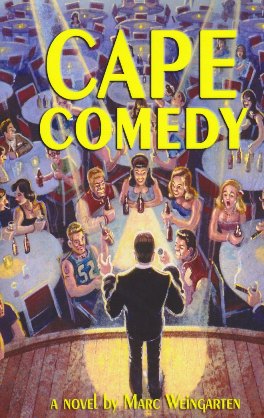 I recently read a novel entitled Cape Comedy by Marc Weingarten, a comedian and comedy club owner. With his insider knowledge of the industry, he has written a crime thriller told from the perspective of the janitor at a comedy club known only as "Mr. Sweeps".
"Ricky Boy", as the janitor calls the owner and founder of Cape Comedy, has died of cancer. Sam Prince, his lawyer gathers all of those mentioned in his will who stand to inherit portions of a 275 million dollar fortune, and witnesses including a videographer to tape the will reading. Several who stand to inherit a great deal of money have conditions they must meet in one year's time to qualify, or what would have been theirs will go to charity. His ex-wife Lily, who had bounced from husband to husband, would have to find try love to get any inheritance. His son "Jeffrey Boy", who had amounted to nothing at that point, would have to establish himself as a professional comic. Chez, a business partner and old college friend would have to run the business as general manager, and increase its profitability substantially, not just burn through money as had been his usual pattern. A fourth beneficiary of the will with no strings attached would be a ventriloquists' dummy; not the man manipulating it, but the dummy. The will and its stipulations lead to four murders, two suicides and a fake kidnapping plot all in the pursuit of getting rich.
As soon as the first death hit the news, the videographer who had recorded the will reading for posterity, LA Police Detective Killian Almanac was on the case. Almanac was a veteran who always solved his cases, but soon hit a setback. He got into an intimate relationship with Lily, a clear conflict of interest. This blunder got him dismissed from the force, but he continued to investigate on his own. First, he had to identify the killer, who had kept on killing. Then, he had to pursue a killer who was always on the move, as well as being a few steps ahead of lesser detectives. I do not want to spoil the story for prospective readers, so I will say no more about how the plot unfolds.
Overall, I enjoyed the book, but found some of the plotlines and characters' names to be a bit implausible. I will give it 3 of 5 stars. The final chase to catch the killer was filled with suspense. I especially enjoyed those chapters. Cape Comedy by Marc Weingarten is a good read.