CINCINNATI BENGALS UNVEIL NEW UNIFORMS
By Colleen Smith, Staff Reporter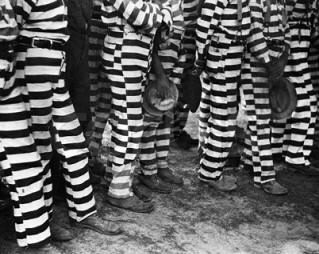 They say a tiger can't change his stripes, but The Cincinnati Bengals are doing it. With the arrest of Jonathan Joseph for Marijuana possession, they have more players arrested than wins this season. Rather than deny that this has happened, or try in vain to change it, team management has decided to embrace their new image as the bad boys of the NFL. They are switching from tiger stripes to prison stripes.
"The Oakland Raiders used to be the most feared team on the gridiron," said a representative for team owner, Mike Brown, "now, we will be. Our new look will intimidate opponents and make them afraid of us just like they used to fear the Raiders."
She went on to say, "It is not just The Cincinnati Bengals, but all of pro sports are filled with players who grew up on the mean streets. Instead of lamenting that they are gangstas and thugs and pretending it used to be different, we have not only accepted reality, but embraced it."

I asked whether having both players and referees in black-and-white stripes would make watching the game confusing. She said no. "Ref stripes go up and down, ours go around and around, and besides, they wear little caps. We wear helmets. Chris Henry, Odell Thurmond, Matthias Askew, Frostee Rucker, Reggie McNeal and the boys we be able to just be themselves, and feel right at home. We are also introducing a new logo to match their new threads."